Institutional Distinctiveness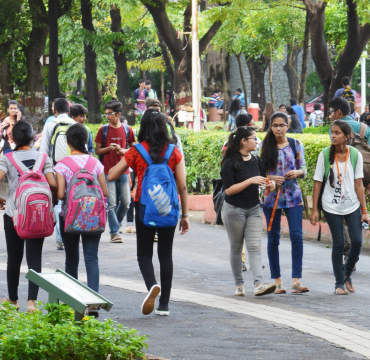 K J Somaiya College of Arts and Commerce aims to impart quality education and promote creativity with an emphasis on holistic development of the students.
Among the many areas that the college promotes in its vision and mission, is inclusive education and infusing the values of social commitment are of special concern to us. All the academic efforts are designed to ensure that the students turn out to be responsible assets to the community (academically and socially).
The following programmes of the College, gives us our distinctiveness
Gyan Yagna
is a thirty two year old practice that takes place in Somaiya campus. Gyan Yagna takes place for 30 days every year. It begins on the first day of the year and lasts till end of month of January. It has threefold goal – spiritual, paramedical and cultural. In modern busy life, while running behind material goals, we have no time to give for ourself.
This race with time starts since early studenthood. This leads to several problems at an early age. These problems are of physical as well as psychological nature.
The practice of 'Gyan Yagna' addresses all such problems through various spiritual, paramedical and cultural activities with the aim of enriching overall experience of participants, ultimately aiming to lead them to self-realization.
The K J Somaiya trust and Somaiya Sanskritivihar provide full financial support for the event.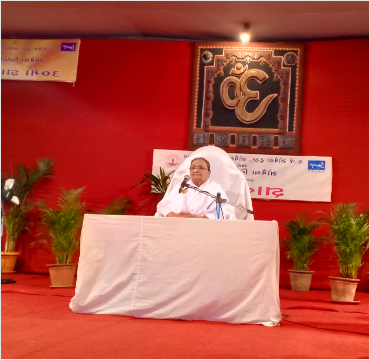 K J Somaiya College of Arts & Commerce gives awards (GOLD and SILVER medals for BEST students) for academic excellence to students with the aim of appreciating students who have achieved some benchmark in their academic career and also to motivate other students to pursue academic activities with more enthusiasm.
It also aims at creating a healthy competition among students that naturally boosts them to utilize their potential to the fullest. GOLD MEDAL is awarded in the memory of Padma Bhushan K. J. Somaiya, and SILVER MEDAL in the memory of Smt. Sakarben Somaiya.
This is an appropriate way of remembering these great personalities who have given great contribution to the field of education.
Drishti Film Forum
The Drishti Film Forum of the college organises screening of movies from world cinema to inculcate interest in film appreciation among students to develop good viewers for films.
It conducts film review competitions and film festivals in collaboration with the other departments of the college to study the film from a various perspectives.
Entrepreneurship Development Cell
Entrepreneurship Development Cell is functioning in the campus and the cell encourages the students to start start-ups.
Scholars' Card
Scholars' Card is given to meritorious students in Library.To inculcate the habit of using library among students Library Best Book Reader Prize is given annually.
Value Education and Ethics
For holistic development of the students, Value Education and Ethics classes are incorporated in the timetable of each class.
The Center for Gandhian studies
The Center for Gandhian studies was established in 2006 under the scheme of Epoch Making Social Thinkers. The Centre organizes seminars, competitions & field visits and has a well-equipped library.
Inter library loan facility
Inter library loan facility is provided to all colleges in the campus. All the libraries on the campus follow the uniform rules for this purpose. This facility is specially provided for the book not available in our library but possibly available in other libraries on campus.
Sports and NCC Studies
Sports and NCC Studies are offered as optional subjects.
Sports Facilities
State of the art facility for sports are available in the campus.